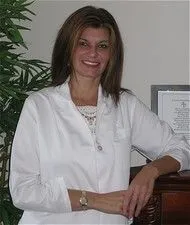 Dr. LaDonna C. Bense
Dr. LaDonna C. Bense, a Missouri native, graduated in 1990 from St. Louis University with Bachelors Degree in Chemistry. For several years Dr. Bense had a successful career in the chemical industry where she did such tasks as develop UV curable coating for engines, validation work for TUMS at SmithKline Beechem, and was instrumental in the research and development of a radioactive heart imaging agent for detecting early cancer cells.

Although she enjoyed her career as a chemist, she decided to pursue her long time dream of helping people improve their health through Chiropractic care. Dr. Bense received her Doctor of Chiropractic degree when she graduated from Logan College of Chiropractic in 1999. She continued her studies and received her Certification in Acupuncture.
Dr. Bense scored high enough on her board exams, permitting her to practice anywhere nationally, but decided to open up shop in her home town of St. Louis. After an enjoyable time in practice there, Dr. LaDonna and her family had an opportunity to relocate to Switzerland. There, she was able to broaden the scope of her chiropractic practice internationally. Besides utilizing several chiropractic techniques to care for all her patients,
Dr. LaDonna has had special experience in working with expecting mothers, helping their bodies transition over the nine months, relieve pregnancy discomfort and prepare them for a smooth delivery. She has also had the opportunity to care for the "little blessings" from infant on. Desiring the best opportunities her family, Dr. LaDonna moved back to the States, and decided to relocate to Georgia. Acworth was the perfect place to raise her daughter, Kennedy and son, Lucas. Dr. LaDonna also has an adopted daughter, Alison, from Russia, who still resides in Switzerland, where she is starting a family of her own. Dr. LaDonna has kept up to date on many continuing educational classes, ensuring that her patients receive the most comprehensive and advanced chiropractic care.She specializes in spinal biomechanic chiropractic long term restoration procedures rather than the "quick fix." These procedures include restoring spinal balance, recreating normal spinal curvature and regaining lost intervetebral disc height.Dr. Bense is an auto accident specialist who works to establish spinal integrity after whiplash trauma. She is also proficient in adjusting the extremities including knees, shoulders, wrists and ankles that become misaligned due to sports injuries.